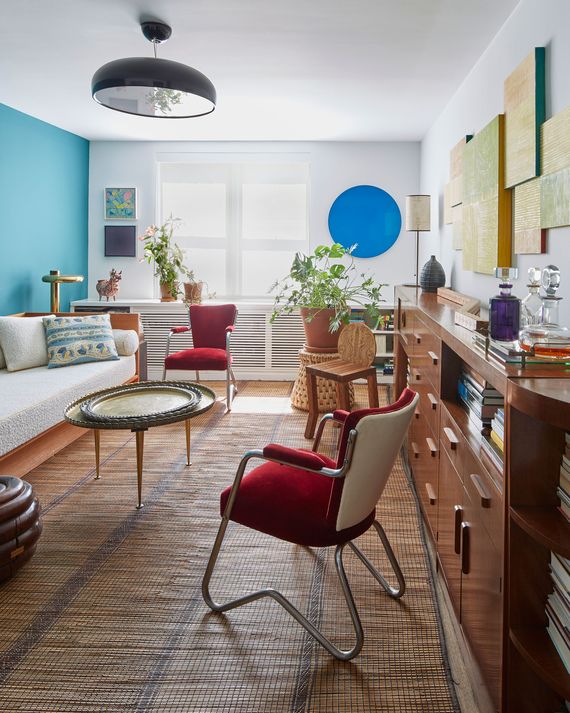 The living room wall on the left is now painted in Farrow & Ball's "Vardo," replacing an earlier David Hicks mural for the walls. The brass coffee table combines an Italianate base from the 1950s and three round metal trays from Morocco, Egypt and Iran.
Photo: Jacob Snavelli
The idea of ​​a frozen home in time … is very attractive to me, because that is how I was brought up, "admits the interior designer Amer Khandawala. "My parents' house in Karachi hasn't changed in 43 years."
However, after living in this one-bedroom co-op in Cape Town for over a decade with his partner, artist and creative director, Atif TourAfter making mostly minor tweaks, they decided it was time to really change it.
The place's first renovation, in 2008, was really more of an intrusion into the design. There were heavy moldings, terracotta-colored walls, an orange kitchen with Formica green countertops, a gold bathroom, and unattractive fixtures in the bedroom. "When we first saw the apartment," Khandwala told me when I spoke to them. After renovation in 2013"It was cluttered and cave-like, with brown plaster walls and heavy molds of lace. He begged to be stripped until his bones were clean and fresh."
Which they did. Then, last year, they decided to reconsider what they had done before. He started with a clearing adjustment of all the artwork, furniture, and little things. Everything they didn't keep was donated or handed over to family and friends, so nothing was thrown away. Then they took a closer look at not only what the apartment looked like but also how it feels, inspiring new furniture choices, and how to use the built-in space. For example, "We had these chairs that were not comfortable, and we had these sofas that were not comfortable," Khandwala says; Everything has been replaced.
Khandwala has recently begun to practice and practice Urdu calligraphy every day, and Toor paints his paintings – "Atef's artwork is the product of his mental practice," Khandwala notes – on their dining table.
Khandwala says the apartment's story is "the story that we as creators live in New York City," "thriving in our ever-evolving space and using it as a haven to inspire and energize."