Army Headquarters Programs Facing a Pivotal Year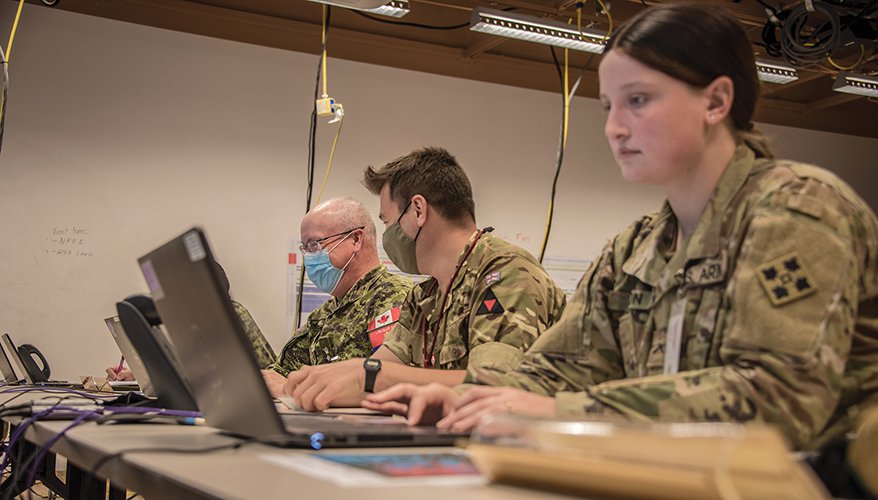 Soldiers use a command post computing environment during operational assessment.
army pictures
After years of working to make the Army's mobile command centers more viable, service leaders say they are on track to introduce two major updates to their systems during fiscal year 2023.
Army commanders initially became concerned about operating command posts remaining near combat zones when Russia invaded Ukraine in 2014. During that conflict, Russian forces were able to quickly find and destroy Ukrainian command posts using a combination of unmanned aerial vehicles and electronic signature detection.
Since then, the service has focused on two projects to make leadership posts more mobile and survivable.
Post-command computing environment, or CPCE, aims to modernize the internal computing environment. The military said the first version of the new system was already in the hands of a number of soldiers.
The second program – Command Center Integrated Infrastructure, or CPI2 – seeks to increase the overall mobility and survivability of command centers.
The two programs are among a list of 24 programs that Army Chief of Staff Gen. James McConnell has pledged to be in soldiers' hands by fiscal year 2023 — either as prototypes or as full-field systems.
Lieutenant Colonel Travis Rodge, Army Product Manager for Tactical Mission Command, said in an interview that the main problem in the legacy computing environment is the lack of coherence.
In the past, applications have been "piped to mission command systems that relate to their combat function, which also means they usually have their own hardware," Rodge said. "They had different interfaces, so they didn't connect to each other."
As a result, commanders were unable to get a "full visualization" of the battlefield, he said, describing someone in a swivel chair having to "move to different screens to see different things and different data."
The goal of the computing environment, he said, is to eliminate spin and fold all those applications into a "single pane of glass."
An Army fact sheet said it "provides an easy-to-use, joint operational picture… through a single mission command group that is managed and maintained by soldiers." By pulling information from a variety of sources and distinct points, the system can give commanders a more complete and layered view of the battlefield.
The computing environment is being developed and introduced into the field in various "increments". An army press release said Surge 1 received full approval for deployment in December 2021 and began deploying to units.
Increment 1 "represents the first important convergence of combat functions in [the command post computing environment] It included improvements across a wide range of applications," the fact sheet said. Applications include "new task planning and whiteboard tools, geospatial capabilities to approximate some intel functions, and overall performance and security improvements."
The statement said the 41st Field Artillery Brigade based in Grafnohr, Germany – the army's only fire brigade stationed in Europe – was the first to receive the new system.
So far, Rudge said, more than 120 units have received a copy of the computing environment.
Along with this software convergence comes a decrease in the hardware footprint. Units using the computing environment also transmit the latest version of the tactical server infrastructure.
Compared to legacy server stacks, the latest hardware cuts weight by 800 pounds, cuts setup time by 63 percent and cuts startup time in half, the Army Fact Sheet reports.
Increment 2, which is currently in development, is looking to further reduce the hardware footprint with a cloud-enabled architecture.
Rudge said that integrating the cloud into the computing environment means it can provide "continuous mission leadership as a service."
The cloud, he said, "will always be there, and it will always be on." Rudge explained that if a unit had to disconnect from the network during a task, it could take its latest state from the computing environment while still executing the task command on the go.
He added: "As soon as they can – or maybe on their way if possible – they will reconnect, and all of the … jobs will still be in the cloud sort of waiting for them.
Although the military won't be able to get rid of all the hardware, giving the environment access to the cloud will also improve survivability in a command position, Rudge said.
"Although it will be a combination of cloud and hardware, you will have fewer devices at some levels," he said. "Less devices mean less space. Less footprint means less vulnerability."
The second iteration will be ready for testing and feedback from soldiers by March 2023, with a goal of completing final testing in the third quarter of fiscal year 2024, Rodge said.
Justin Emers, deputy public communications in the Executive Office of the Army's Command, Control and Tactical Communications Program, said testing and introducing soldiers was critical to the development of the command center computing environment.
"Taking this software, and putting it in the hands of soldiers…in practically relevant environments is an enormous benefit," he said. "This software has been doing quite a bit of DevOps with the modules giving feedback that we are… we are merging into the software."
For example, a whiteboard tool that allows for better collaboration has been added to the computing environment "as a direct result of feedback from" soldiers, Emers said.
Lt. Col. Jeremy Rogers, Product Manager for Integrated Infrastructure Company.
The new vehicle-based command post structure consists of four different product lines: Mission Command Platform; Command Center Support Vehicle; Integrated support system. Mobile driving group.
Rogers said the first three products are "totally dependent on each other."
"The [command post support vehicle] It acts as a local area network within the command center. The mission command platform provides the office space in which the commander and staff work."
He added that the integrated support system provides "the networking and acoustic configurations for the command center," and can provide seating, additional tents and floor space if needed.
Rogers said the mobile command group is not a required part of the integrated framework at this time but is "designed to allow commanders flexibility on the battlefield" if needed.
A mobile command group can provide the command center with more mobility "that allows the commander – like a taxi service – to get them from Point A to Point B," he said. Others, however, view this group of vehicles as acting "as a mobile package that allows the commander to have a common operating picture on the go," Rogers said.
"We don't necessarily have an understanding of what capabilities are supposed to be integrated into [the mobile command group], so it's hard for us to move forward on that until we have an update in our "capacity development document," Rogers said. He added that this update is supposed to arrive sometime in fiscal year 2023.
Emers said the program underwent a number of operational evaluations last year, which gave the program flexibility to adjust driving positions.
"This provides us with really valuable feedback on how leaders use this full set of tools in operational environments, and operational scenarios to accomplish their mission," he said. "We are still looking at the comprehensive set of capabilities as part of CPI2, and are taking this feedback from field leaders on how to customize this toolkit to meet their needs."
Rogers added that the infrastructure provides flexibility for the "building block approach." Leaders can structure the command center for one mission, and then reconfigure it for a different mission.
Previous tent-based command center infrastructures took six to eight hours to displace in [brigade combat team] Rogers said.
Rogers said the Army's target teardown time is 30 minutes. During operational assessments, he said, the units with the most training could "place and shift their shelters within the 15-minute range," averaging just over the 30-minute target.
Rogers said one area where there is still room for improvement for the command center is the capacity of wireless networks.
"No matter how much bandwidth you give the unit, they will always want more," he said. "Anytime you run an entire command center over Wi-Fi, it really creates some bandwidth limitations, so we're looking at options to improve that system."
Rogers said the Army has tested "millimeter wave" capabilities as an alternative to command center communications, but that this requires a line of sight that units don't always have.
"If you are in a densely wooded area, it makes it very difficult to determine that line of sight between vehicles if they are scattered," he said. "With Wi-Fi, you can overcome some terrain, but it reduces the range you can connect to."
He added that the aim of the command post was to differentiate "up to 250 meters between shelters".
Rogers said that surge 0 of the command center's integrated infrastructure will be sent to brigade combat teams in the third quarter of fiscal year 2023. He added that surge 1 will undergo "formal testing to validate the final CPI2 design" over the next year.
With both the command center computing environment and the integrated infrastructure — along with many of the Army's other modernization programs — the service is making many important changes in how soldiers operate, Ajay Kochar, chief technical analyst at RAND Corp., said in an interview.
He added that having units testing these new capabilities allowed the military to understand what was best for a fighter and to develop technology.
"My impression is that the military is aware of the challenges…but is actively preparing to meet them," Kochar said. "They realize…the inherent challenge of introducing a new technology – a new type of technology on a different scale – [and] Pair that with a new way of working."
For other services, [it] The military appears to be focusing on an approach that uses experimentation to understand feasibility, utility, ease, and how to improve on "new technologies," he added.
Rogers said the Army conducted exercises with both systems at the same time so soldiers could gain hands-on experience of what the future holds.
"When we arrive with CPI2, we have those units bringing in their tactical servers and their own tactical radios — and as part of our fieldwork, we are installing that equipment in our shelters to help provide the unit's tactical command center," he said.
And when you combine the two programs, he added, "you get a traditional flavor of what a leadership position would look like during those demonstrations."
Kochhar said modernizing both the indoor and outdoor environments of the command centers at the same time would allow for greater capacity going forward.
"There are distinct functions performed by these different classes of systems," he said. "And the military is aware of this, and they are focusing on each class of systems to evolve so that they all work together in a much better way."
Threads: army newsAnd the Battlefield Communications