IIt is not always wise to assume that today's date is better than yesterday's date. Interpretations change, the current vogue of vision Richard III, long portrayed as a tyrant, as a gentle person who somehow lost track of the whereabouts of his nephews, just as he was crowning himself in the place of little Edward V, might one day seem ridiculous. I'm willing to bet on that.
The Wallace Collection in London is the last place I expected to encounter what amounts to a kind of historical populism. The same age as Brexit also saw the rehabilitation of Richard III after his skeleton was discovered under a car park in Leicester in 2012. This inspired a seemingly universal assumption that Richard was a righteous king, although his skeleton does not provide No evidence of his actions in life. This is what this exhibition relates to the new Steve Coogan movie The lost kingIt also seems a foregone conclusion. Thus, it places a large question mark on the board at its heart, while offering the propaganda shield used in the film as the last word on the realistic reconstruction.
Two children reclining in their prison in a canvas by Paul Delaroche Edward V and the Duke of York in the Tower. The older brother looks at their bedroom or cell door in fear. His eyes were wet with tears even as he tried to be brave for his younger brother, whose face was broken with confusion and horror: why did Uncle Richard put them here and what does he plan to do next?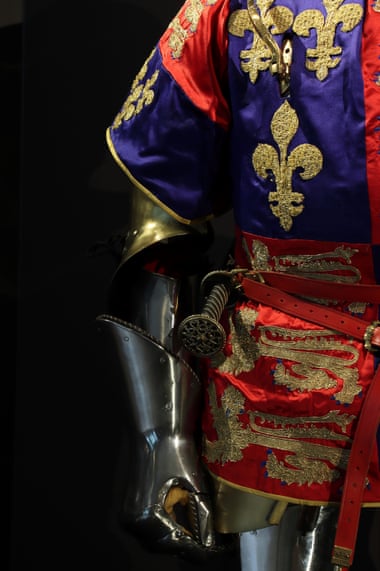 Painted in 1831 and long owned by the Wallace Collection, this little fear frame should speak for our time. Here are two innocent people, imprisoned and expected to be killed. It is a universal picture of oppression. He also happens to be faithful to the closest extant source on the mystery of the Princes in the Tower. Because it is not true that the story of Richard III's murder of his nephews was a fabrication of Tudor propaganda. Strong skepticism was broadcast at the time, recorded by the Italian traveler and writer Domenico Mancini, who was in Britain when the princes disappeared. Talk to Edward V's doctor, John Argentinian – he was probably the last person he saw alive except for the killers. Paralyzed with fear, the Argentine told Mancini, they recited their prayers in anticipation of imminent death. This is exactly what Delaroche shows in his painting.
Wallace's group misses the trick—and a shot of human sympathy—in putting allegorical question marks around this painting, and telling us that the soon-forgotten film is a more honest and serious representation of the past than a gem of romantic art. . She compares Delaroche to a suit of armor made for the movie, which praises its accuracy, in contrast to Delaroche's supposed Shakepearean trick. The murals summarize Richard Hoo-ha and illustrate how his on-screen representation has long been influenced by Wallace's excellent set of armor. Not only did her curator give advice on The Lost King, but when Laurence Olivier was filming Richard III, he came here to study a mannequin in tin armor on a bred horse.
This view is best enjoyed as a gateway to the galleries of armor, where you are sent to see the platforms and beavers that gave so many cinema soldiers their appearance. (If you've never marveled at the medieval wonders of the military hardware on set, that's a good excuse to go full metal armor.) But he undergoes a strange shift in sympathy from history's victims to a tyrant.
This could and should have been an opportunity to reconsider what lies behind Delaroche's portrayal of Edward IV's doomed sons. Were the two skeletons found in the tower in 1674 the skeletons of princes? What is the evidence and what do historians – unlike the Richard III Society – really make of all this?
As it stands, Delaroche's palette serves as a troublesome pronoun tug. While this show highlights the lost king, this canvas of fictional history and humanity asks us not to think of the two missing princes shivering in their cell.